Prices
Adults  €35
Children (2-16 years) €20
Children under 2 years Free
While we do our very best to find dolphins and our success rate is extremely high please keep in mind these are wild animals and sightings are not guaranteed. We offer a 25% refund if you are unlucky not to spot any dolphins.
All sailings are weather permitting and subject to minimum numbers, sailing times may change at short notice to facilitate extra sailings or because of tidal conditions, your sailing time will be confirmed one day in advance by text message.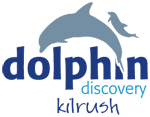 The West Clare Peninsula is an area of unspoiled natural beauty, wedged between the roaring Atlantic to the north and the more tranquil Shannon estuary to the south. At its most westerly point Loop Head, the River Shannon ends its 212½ mile journey from the Shannon pot in Co. Cavan and enters the Atlantic Ocean. It is in the final 30 miles of the Shannon that a large group of bottlenose dolphins can be found, where we will take you on an unforgettable dolphin watching tour.
In this Special Area of Conservation which is both a feeding and breeding ground for the dolphins with calves (baby dolphins) born each year and during your trip you may be lucky enough to encounter some of the new born calves which are a delight to observe.

Your cruise will depart from the Kilrush marina onboard our vessel "
Dolphin Discovery
", going out through the lock gates, the only lock on the lower Shannon and onto the estuary home to Europe's largest group of bottlenose dolphins.
The trip takes about 2½ hours and is one of the most enjoyable and thrilling experiences to be had while discovering the Wild Atlantic Way. Every encounter is different, you can experience the excitement of seeing them leap clear out of the water or just swimming along with boat. While we do our very best to find dolphins, please bear in mind they are wild animals and although we have a very high success rate of encountering dolphins (over 98%) sightings are not guaranteed.